Antonio "Tony" Salvai
Gender:
Male
Age:
22 (February 16th, 1995); Aquarius
Meister(s):
Lynne Kretschmer
|
James Robinson
|
Tessa Levinson
; None that have lasted
Weapon Form: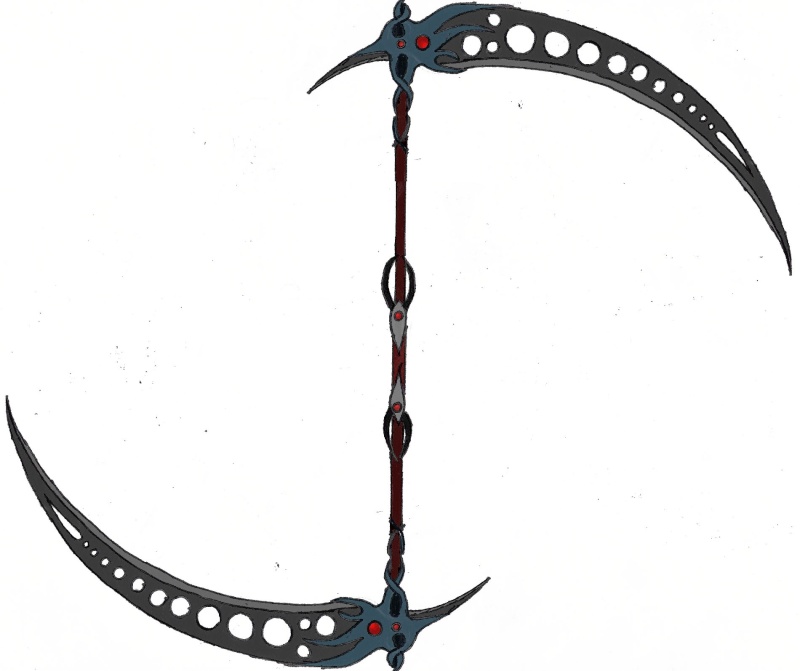 Antonio's weapon form is a socketed, double-ended scythe blade. The total length of his weapon form amounts to about his regular height, making him a bit difficult for smaller meisters to wield. The red jewels in the heels of his blades change color depending upon his mood, though are usually red in battle and blue when he is neutral or excited, shining brighter depending on the intensity of the emotion. He has the potential for elemental use, though he only ever seems to show it when struck against something, shooting sparks against his blades.
Wife:
Beyril Stone
Appearance:
Antonio (alternately Anthony or Tony) appears, at first glance, as a bit of a punk. He has striking blue eyes, silver hair (which he will neither confirm nor deny dying), and tanned skin. Though it is possible for him to gain another inch or so in height, he is already fairly tall at 6'2", thin but still muscled. He generally wears various, often wildly colored jeans, from skinny to baggy, any number of band t-shirts, and one of his leather jackets. Accessories beyond that vary and tend to be wildly unpredictable. He has both ears pierced (cartilage and lobes), as well as his left eyebrow, right nostril, tongue, and the left side of his lip, all with a variety of surgical steel rings. Antonio almost always has one of his three leather jackets with of him, one black, one red, and one brown, and he can get a bit touchy about them. He typically wears leather, spiked boots, or either low- or high-top sneakers. One of his strange mannerisms includes him making a motion as though he is tipping his hat; it is how he greets people.
Personality:
ESTP; Tony is the talkative sort, trying to essentially be everyone's friend but not caring if he does not succeed in the endeavor. In some ways, he is like the stereotypical class clown, do anything for a laugh, but more often than not he merely likes to speak and share. For the most part, he is an open book, expressing himself through stories, real, fictional, and in-between, but he does have a few secrets that he keeps to himself. Antonio is a brilliant student, picking up on things easily, completing them, and proceeding to goof around; it was his attitude, rather than his intelligence that set him back a year (twice, once in elementary and once in high school), making him a sophmore this year. It is also important to note that he
adores
flirting, not for any romantic pursuit, but for the very fun of the flirting itself.
History:
His family is Italian, evidenced by his name, but such is from generations back; both of his parents were born and raised in America, as was he. He is currently an only child, as his sister died when they were young, and has since then gone from unruly to social butterfly. In his younger years, he would pick fights just for the attention or to get people out of his face, but since puberty, his temper has mellowed out a great deal. Instead of anger, he's taken to channeling his energy into flirting.
He has 28 cousins; 17 are from his father's side and 11 are from his mother's. He is the second oldest on his mother's side and fourth on his father's. His Mamaw (maternal grandmother) lives with his parents and his paternal grandparents (Nonno and Nonna) live nearby. His father is employed by Fukui Industries and he, himself, holds a minor position as well.
***NPC HISTORY UPDATE/TIME PASSING UPDATE PENDING***
Soul:
Condition/Wavelength:
Pure; Unknown
Sight:
Touch:
Sound; Electric Bass Guitar:
Taste:
Metallic; guitar picks, blood, and jewelry
Smell:
World:
Soul Count:
-
Miscellaneous:
Antonio is straight but is quite comfortable with his sexuality and will flirt with any human, regardless of orientation or gender, though he still focuses heavily on women. He is one of Savannah's many exes, though they remain friends and study partners. Him and Jasmine are best friends and occasionally flirt (seeing as they both know that the other one is
clearly
not serious). Tony plays guitar but prefers bass, and uses both it and exercise to maintain control over his emotions. He also smokes and is ('loosely') Catholic. He is fiercely loyal to and protective of his roommate,
Rogue
.
Update: He has quit smoking due to an agreement with Beyril.
Have You Read the Rules?
"I love Soul Eater!"