Name: Ashley Gravelyen

Gender/Sex
: Witch
Age
: 216 (Appears 16)
Weapon: None yet, prefers scythes.Animal Form
: Ashley takes on the form of a massive undead dragon, approximately 6 meters in height, 4 in width, 7 in length from snout to tail. Many bones are exposed and some pieces of flesh cling to the bones they root from.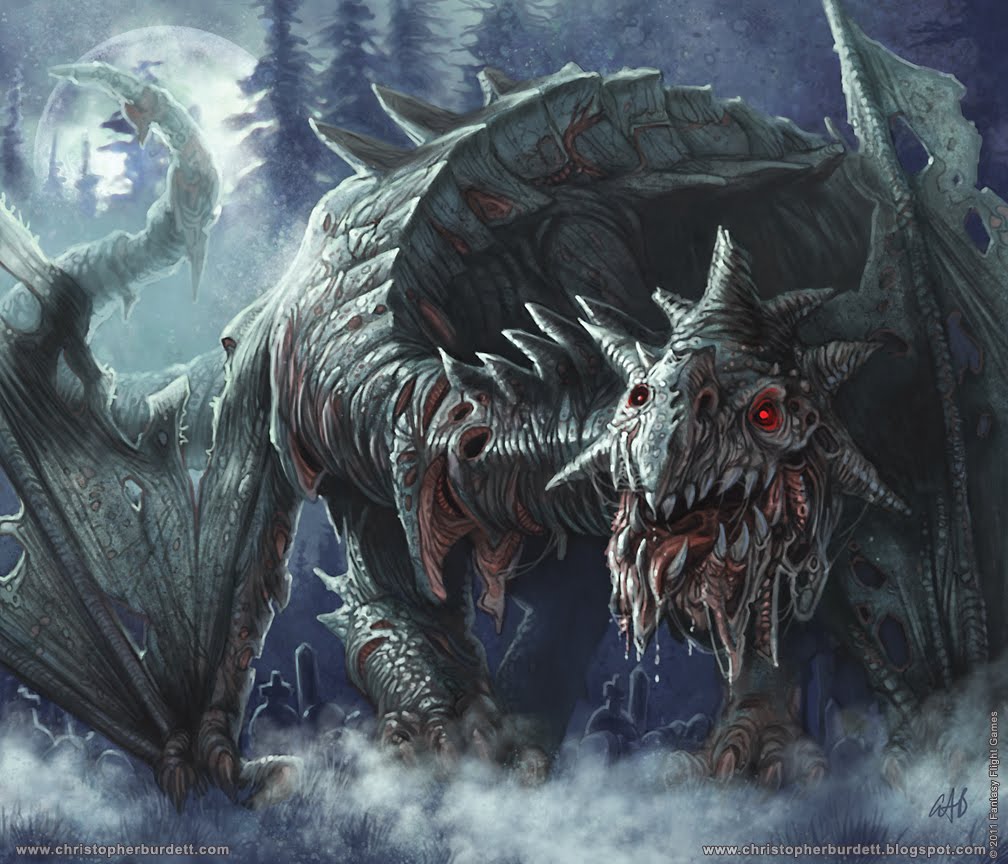 Mantra: Spooky, Scary, Skeletons!Love Interest
: None
Orientation (Sexual/Romantic): Feels indifferent about her sexual preferences.Appearance
: At first glance, Ashley appears to be a poor, young teen with very little to distinguish her as being wealthy. She stands at a height of 5'4 feet tall and sports a rather thin, frail frame. She weighs around 139 pounds and sports a surprisingly healthy white skin tone for someone who appears poor. She has shoulder length messy hair and very light brown eyes that almost appear to glow yellow in the right lighting. Beneath bandages around her arms and legs, she hides revealed bones that poke out like spikes.
She is often barefoot with the exception of bandages that rap around her own two feet. She wears ripped up shorts and shirts that are often patched up with bandages like the ones around her arms and legs. The only article of clothing that isn't hanging by the seams is her brown hood that shelters her from the rain.
Personality
: Ashley is cold and calculating, always on her guard to protect herself and her Hellhound pup, Bonez. She barely enjoys fighting however and will usual have minions fight for her. If worse comes to worse, she will attempt to battle in her Dragon form as a last means of defense. When in this form, she'll become more animalistic, beastly, and even bloodthirsty. Very little is capable of pulling her out of this trance when she assumes this form.
Her most powerful aspect however is her silver tongue, capable of manipulating and binding others to her will with her lies and weak demeanor. She enjoys taking on a weak persona instead of displaying the extent of her powers on a daily basis. She believes that even the most heroic and determined of warriors could be tricked into following her if she keeps up a powerless personality. Despite being very manipulative, she could end up creating true friend out of the people she uses if given enough time.
Ashley finds it difficult to make true friends due to recently exploring the world around her. She can become very odd and occasionally awkward about dealing with others but this would simply mean that there will never be a dull moment. Ashley is unfamiliar with things that many would claim to be ordinary. One may excitedly look at and devour a bowel of ice cream while Ashley herself will timidly wait for minutes to hours before finally trying it.
History
: Ashley was born in a remote in unknown location in Europe due to the special magical powers that cut off her little Kingdom from the rest of the world. Being looking in from the outside will see an abandoned house when truth is, the inside is dark yet dimly lit city that houses many undead Skeletons, Witches, Warlocks, and even monsters. This place was built during the Witch Hunts in Europe as means of offering protection and sanctuary to the creatures that desire freedom, peace, and tranquility. This place was named Shady Hollow.
Things weren't all sun shines and rainbows here however, the residence were usually ruled with an iron fist by the king of Gravelyen family. He was the most powerful Warlock here in Shady Hollow and he would rule unfairly, dishing out brutal punishment to those he believe deserved it. This king would marry and remarry multiple times after killing his current wife and child. He despised the fact that matter how hard he tried, his wives would never bear him any sons.
Eventually a Witch who was currently married to this Dark ruler became pregnant with his child. She feared for the worse and came up with a plan with her Brother Thomas to save her child. Eventually the day would come when she would give birth but before the Dark ruler could arrive, the mother's baby would be replaced with son from a nearby orphanage. Thomas would be taking her sister's true child and flee from the Shady Hollow with the baby. Before Thomas would leave however, she would allow her sister to spend could be the final moments she had with her daughter for centuries. She would finish nurturing her daughter child by placing a kiss on her small forehead before whispering her name, "... Ashley."
Ashley was then finally taken away and cared for by her uncle Thomas ever since, being raised in the magical arts to someday return to Shady Hollow and battle her father for control of her rightful role as Queen. After the completion of her magical training, her uncle created a magical undead Hellhound made of multiple dogs. She would then claim this pup as her pet. Her uncle would then allow her to live her own life as she sees fit.
Miscellaneous
:
Ashley speaks in Gray!
Ashley Gravelyen's Soul Room
Ashley's room is quite, spanning out 100 meters in length and width, unmarked tombstones and graves covering the mass majority of the graveyard that serves as an excuse for a soul room. Skulls lay out upon the ground in a messy manner, walking upon the ground could occasionally cause loud crunching and crushing sounds all throughout the cemetery. At the heart of this graveyard is a large gothic styled church. Inside you will be able to find Ashley herself, tending to undead skeletons the best she could.
| | |
| --- | --- |
| Spells | Description |
| Soul Protect | Ashley can disguise her soul as a innocent soul. |
| Bone Marrow | This is more of a natural ability than a spell. Ashley can control her bones and form them in any way possible. She can force bones out of her body by having them protrude out of her flesh. These bones are about as tough as steel. Ashley has incredible endurance, capable withstanding the pain to rip these bones from her body. Her ordinary human form also proves to have minor regeneration properties, capable of healing broken skin. She however can't repair lost limbs. |
| Fire Balls | Ashley can breathe fireballs both in her human form and undead dragon form. |
This is Bonez, a three headed puppy with brown fur and crimson red eyes. It's about 3 feet in height, each head being capable of firing firey red hot fire balls from each head.
Have You Read the Rules?
"Come with me, The Undead Walk by my side."