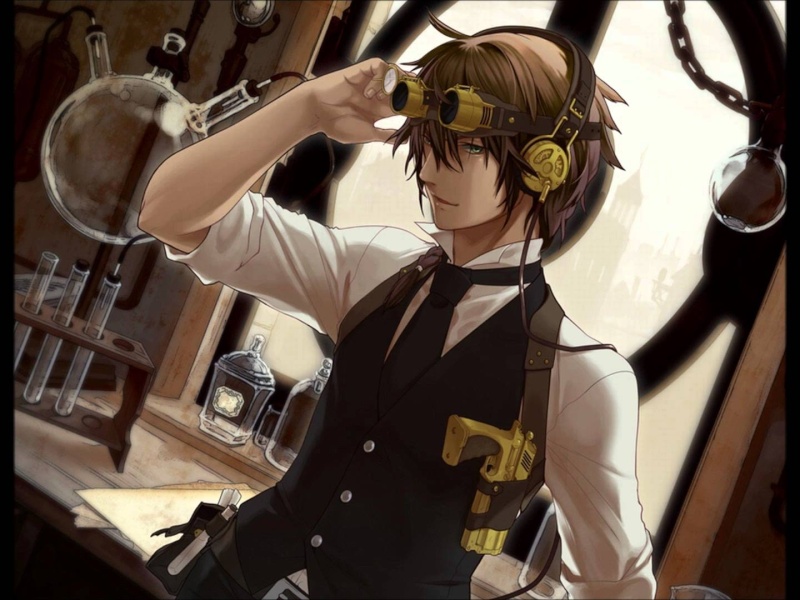 Mark KozakGender/Sex:
Male
Age:
19
Secondary Class:
Meister
Love Interest:
Dani
Mark and Dani :
Orientation (Sexual/Romantic):
Heterosexual
Weapon:
Dani
Madness Strand:
-
Enchanter Subsect:
Toolmaker
Magical Tools:
Wavelength firearms:
Mark
's most powerful tools. They imitate the way demon firearms work but they are 3x weaker. They convert the wavelength of a wielder into ammo.
Materials Used:
Mark
uses steel, gold and other metals to create most of his tools. His wavelength firearms require rare magic infused crystals that are capable of converting wavelength into pure energy which is used as ammo/fuel.
Appearance:
Mark
is a handsome looking young adult, who likes to keep his body in a good shape. He is 182 centimeters tall and weighs 81 kilograms.
Mark
has a fair skin complexion and he can usually be seen with a barely visible tan. His hair is brown, shaggy and long to his cheeks.
Mark
's eyes are bright green, filled with curiosity. Style and appearance are important to him and that's why he tries to look neat and elegant most of the time.
Mark
usually wears white shirts with sleeves rolled up to his elbows, a black waistcoat, ties and trousers. He wears a leather belt with a small bag attached to it.
Mark
always has his golden, wavelength pistol with him. He keeps it in a holster that is hanging on his chest. When he works on something, he wears golden goggles, enchanter's gloves and golden headphones to isolate himself from everything that can distract him.
Personality:
Mark
is a big workaholic; his job is creating his tools and selling them. He finds it to be the best job ever for a person like himself, as he loves inventing and creating new tools and weapons. He spends hours in his workshop working. Of course,
Mark
doesn't spend all his time alone, working. He loves spending time with his younger sister. However, unluckily for him, she prefers spending time away from home so catching her is a difficult task.
Mark
is a gentleman, who usually tries to follow the rules of Savoir Vivre(from French: good manners). He respects people around him and tries to be polite and nice to most of them. It's difficult to make him angry and he is trying to not judge people's actions without knowing the reasons behind them. He respects the feelings of others and tries to avoid hurting anyone who doesn't deserve it.
Mark
considers himself to be rather pacifistic despite making wavelength weaponry.
History:
Mark
was born in Warsaw in a rich family of scientists who own a pharmaceutical company. His parents were very busy with their projects and experiments, which caused
Mark
to become a lonely young boy, until Anna, his younger sister was born. Two kids quickly became close to each other. A true, strong sibling bond formed between them. They were growing up together and discovering the big world together. At that time
Mark
was unaware of what his parents had done to his beloved little sister. One day his father took him to the family's lab to show him some simple experiments. He hoped to interest his young son in science and he partially succeeded.
Mark
became fascinated with science and ended up spending all his free time studying. One day he decided to sneak into his parent's lab to perform some experiments on his own. When he started looking for ingredients that he needed for his experiment, he found some documents describing a very mysterious project.
Mark
's curiosity was very strong and thus he started reading the documents. He couldn't understand everything, but he knew enough to realize that the documents described experiments and operations his parents had performed on his younger sister. It was truly a terrifying discovery to the young boy. He promised himself he would do everything to protect Anna and make her happy. He was convinced that the experiments caused her lots of pain. The truth was that Anna didn't even remember anything as everything happened right before and after she was born. Luckily for everyone,
Mark
's mother found him and then explained to him why they did what they did to little Anna. Without the operations, Anna would be born sick and very weak. She probably wouldn't even be able to stand on her own. So in reality, such immoral experiments saved her from a sad life.
Mark
was a smart boy and he believed her mother's story. However, he decided to keep his own promise and do everything that would make his younger sister happy. It was a promise he would never break.
One day
Mark
discovered that there was a group of enchanters living in their home city. He asked his parents to let him meet them. Obviously, they agreed. Meeting the enchanters changed his life forever. Their work inspired him. He wanted to become like them, so he started learning from them. The enchanters shared all they knew about their profession with the knowledge-hungry boy and they even gave him a pair of small enchanter gloves.
Mark
tried making his own golems, but he didn't find it as interesting as creating enchanted tools (also he wasn't very good at making them). According to his enchanter friends, he was learning very quickly. His enchanting studies took him a few years, but it became his biggest passion. He started mixing enchanting with everything he had ever learned from his parents.
Mark
started inventing simple tools, mostly toys and miniatures. When
Mark
was 15 years old, his sister started discovering her meister powers and soon after that, his own powers started to awaken. The siblings decided that they could use the opportunity by enrolling in the famous DWMA and improving their talents. Their parents would prefer their children to follow their steps, but they wanted their children to be happy and thus they let them move to Death City and join the DWMA. Anna fell in love with Death city and the DWMA. She wanted to become a powerful ninja and a strong meister, while
Mark
preferred to just stick to the NOT courses and study souls, magic and wavelengths. He believed that such knowledge would help him invent better tools.
During his entire meister career at the DWMA, he had never managed to find a weapon which gave him an idea… what if he could create his own wavelength weapons? At that time, he was known in Death City as a good blacksmith who could turn steel into strong swords and armor.
Mark
's first attempts at creating wavelength firearms were fruitless. This was until he was visited by a mysterious witch. Her name was Chloe Carmen and she wanted to order many swords from him. She became his best customer. One day, Chloe brought a mysterious rifle to his workshop and asked if he could reproduce it. Upon close examination,
Mark
discovered that the rifle was capable of turning wavelength into bullets. It was the eureka moment of his project and he didn't even have to invent anything. Fate brought what he wanted to him. He used his knowledge, tools and gloves and after a week, he managed to create his first wavelength pistol. Chloe was extremely happy that
Mark
had managed to copy the mechanisms of the mysterious rifle. Since that day, they have been using each other's services. Chloe was ordering many wavelength weapons while
Mark
was asking for materials and money. His life couldn't get any better… right?
Miscellaneous:
He is a genius inventor, blacksmith and a weaponsmith with a very creative mind. He earns money by selling his creations.
Thanks to his deals with Chloe Carmen he is always provided with all materials he needs for his inventions and also money from selling her weapons for her army.
He opened a small workshop on the edge of the shopping district. However, he has another workshop in the basement under his house.
His color is: #99cc00
Abilities:
Basic soul perception
Basic golemancy (he is able to create only one small, weak golem).
Have You Read the Rules?
"M-Maybe?"