Name: Sylas Hammer
 Gender: Male
 Age: 27
 Meister and Wife: Dowan Hammer
 Weapon Form: 
Pole-arm staff w/ large battleaxe head, single sided blade, 7 foot pole(not counting the counterweights), two counterweights on both sides, the top counterweight has three large bolts on it, each with the same symbol on it: An I with two longer cross marks on the top and bottom and a smaller cross mark through the center. The bottom counterweight ends in a small point for stabbing. The top counterweight is one and a hald feet long, the other two feet long (and weighs more), Axe blade comes out of the top counterweight, blade is five and a half feet from tip to tip in length and three feet in width.The cutting edge runs the entire length of the axe head.
 Description: 
6'2'', Dark grey pinstripe button up shirt, untucked with the sleeves rolled up over his elbows. Blue jeans, black and white skate shoes. Shaggy blonde hair that occasionally drifts into his eyes and a scraggly beard. He has Bluish white eyes and wire-frame glasses
Personality: 
Sylas had once been a very calm, fun-loving sort of guy. Then he encountered the hardships of living with madness, and he became more cynical. He still enjoys a fun life, but not as much as before. He's serious, always on guard for the next threat, hoping to snuff it out before others have to.
 History: 
Sylas was born to a meister and a weapon in Northern Ontario, Canada. When he was twelve his parents took him and his sister Rose to the Eve Party. The very Eve Party where Asura was to be awoken. Sylas and his family had left early due to Rose being troublesome, but when the confusion began Sylas was separated from his family. When Lord Death began his fight with Asura, he slammed him down onto a street adjacent to the alley that Sylas had found cover in. Asura's pure madness left the boy damaged and unconscious, a remnant of this pure madness forever locked onto the young weapon's soul. At 13, he had his first attack, leveling a forest near his home before his mother was able to calm him down. at 15, he enrolled in the DWMA. When he was 19, he was guided by the Death Scythe Asuka in becoming a Death Scythe himself. When Saca managed to briefly raise Asura, the Remnant took over fully, for a brief time wreaking havoc on the world. When the first Kishin was put down, Sylas traveled the world to atone for the sins of his other half. Eventually he returned to Death City, resuming his job as a teacher.
 Madness: 
Sylas and his family were visiting Death City when Asura re-awoke, exposing him to madness and causing him to lose control when under emotional stress. As both a coping mechanism and something completely out of his control, his madness developed into a second personality, named, appropriately, Mad Sylas. Mad Sylas speaks with the slightest Cockney accent, is malicious, devious, and brilliant, and is at all times trying to usurp control of Sylas's body. Recently, the two have come to a sort of agreement. Sylas allows his other half some freedoms, allows him to manifest, and occasionally they combine to fight at a new level, and Sylas keeps most control over their body.
Cloak of Madness: Sylas and his madness achieve harmony, granting him a midnight black cloak with a shifting red-black liner, and giving him the ability to manifest his weapon form independently of himself. However, his soul and body take great damage when he releases this form/ability, leading to him being able to only use it for sparse amounts of time.
While in this form, Sylas has access to all his normal Death Scythe abilities, as well as a few others.
-Kishin Eye: His left eye turns into something like Asura's Kishin eye. Focusing it on a target he holds allows him to inspire intense dread in them
-Weapon Form Access: Sylas is able to pull his own weapon form from the cloak, letting him use them to devastating effect. He can also charge them with soul energy, and put two of them together to deliver a massive attack with dark soul energy.
-Internal Resonance: Sylas and his madness harmonize, not unlike two souls, to achieve new heights of power.
       -Madness Resurgent: Sylas's cloak turns into a suit of armor, allowing him to take astounding amounts of punishment. His weapon form also becomes far more twisted, sharper and pointier and stuff.
          -Feral Insanity: Sylas's fastest form, it sacrifices heavy armor in favor a thinner axe, more akin to a halberd than anything. In this form his spears also move faster, more quickly reaching their mark.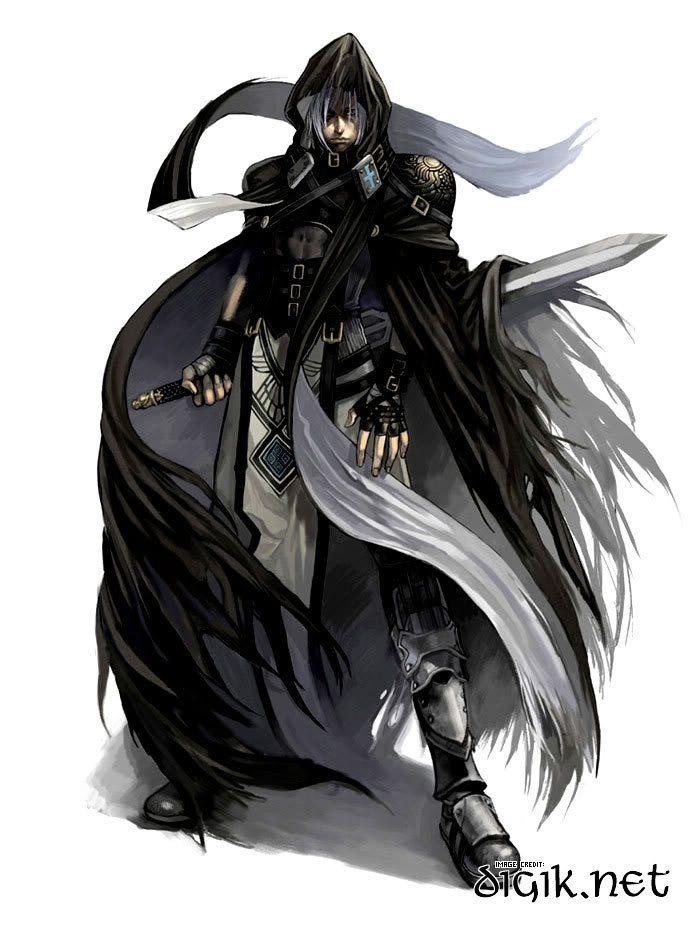 Resonance Techniques:
 Executioner's Blade: The normal blade of the axe grows twice in size, becoming a glowing white-grey blade of soul energy.
Mad Executioner: Same as above, though only usable when Sylas has lost complete control of his emotions. The normal blade becomes blood-red, and is more able to cut through things, though his meister suffers from their resonating.
King's Blade: Like Executioner's Blade, except a second blade of energy grows opposite the first one, allowing the user to attack with backward and foreward swings.
Mad King: Same as Mad Executioner, but with two blades.
Ancient's Blade: The entire top of his weapon form becomes a disk of blue energy, allowing for stabbing motions along with the normal cutting ones.
Mad Ancient: Same as the other two mad abilities
Other: Sylas' soul is a grey-ish white, and there is also a second soul colored black-red. Depending on who is in control, their soul is larger, and the others is inside of it.
Have I read the Rules?: Of course I have, I love Soul Eater