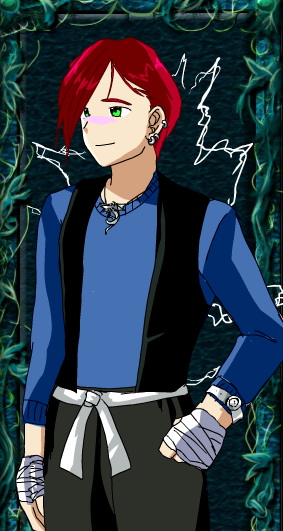 Kyllic Arregoden McAllister
Gender
Male
Age
22
Meister
Rose Hammer
Weapon Form
Japanese Nagata Sword (9 in)
Crush
Rose Hammer
Boyfriend/Girlfriend
N/A
Description
Kyllic looks almost identical to his older sis, with his right ear pierced three times. They have the same wristwatch.
Personality
Kyllic is smart, intelligent, and almost cold. He can be a bit stand offish, rough around the edges. He's a nice guy as people go, but he doesn't get emotionally attached easily. He is a bit arrogant, because he is top of his class, in his first week at the academy. He doesn't chase after girls, and boy, does he attract em. He and Dowan, however, have a great relationship, as he is softer and caring with his sister. He is looking for a meister, desperately, and like his sis, can match wavelengths with people easily. He just wants the right person.
History
Like Dowan, he grew up with a normal family. Unlike Dowan, he had no interest in going To DWMA, but was forced to do to recent events involving his sister. He had a bike incident as a kid, leaving a scar on his rib cage.
Other
His soul is also purple, with a scar down it's face
Have You Read the Rules?
I love soul eater!